Rose Leaves on Concrete
:
ISO 100, 10mm, f/5.6, 1/80
I was walking to the garage this afternoon to dig out our outdoor Christmas decorations today and noticed that a few rose branches had fallen to the ground. They were showing off very autumn like colours (Red, Yellow, Gold).
I grabbed my camera and picked up some of these leaves and placed them in the sun. Since it is close to winter here our sun now tracks in the southern sky and does not cross directly above us. Because of this we get very long shadows this time of year. I wanted to show these shadows so I placed the leaves on a somewhat plain background.
The top picture is after some post processing work done with an Apple Aperture Plug-in that I have talked about before. The image directly below is the original image.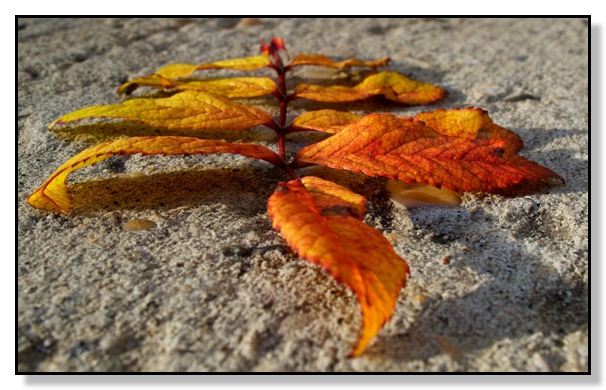 Rose Leaves on Concrete Original Image
:
Same setting as above